"No matter how busy you may think you are, you must find time for reading, or surrender yourself to self-chosen ignorance." -Confucius
I am not going to try to recreate the wheel here.  There are a TON of primal/Paleo resources out there but it is helpful to know where to look for the best information.
Follow the links below. And check back frequently as I will update this list often!

Book I've read:
The Primal Blueprint, Mark Sisson
Good Calories, Bad Calories, Gary Taubes
Eat Like a Dinosaur, Paleo Parents
Wheat Belly, William Davis, MD
The Paleo Solution, Robb Wolf
Blogs I follow:
Mark's Daily Apple, Mark Sisson, author of Primal Blueprint
Robb Wolf,  former research biochemist is the New York Times Best Selling author of The Paleo Solution – The Original Human Diet
Caveman Doctor, Colin E. Champ, M.D.
Balanced Bites, Diane Sanfilippo, Certified Nutrition Consultant, C.H.E.K. Holistic Lifestyle Coach
Eathropology, Adele Hite, RD, MPH and PhD in-training and co-founder of The Healthy Nation Coalition
Cavegirl Eats, Liz, Nutritional Therapy Practitioner
Wellness Mama, Katie, Nutrition & holistic living
Everyday Paleo, Sarah Fragoso, Trainer
Paleo Parents, Stacy & Matt, parents of three Paleo boys and author's of Eat Like a Dinosaur
Food Renegade, Kristen, Nutrition and Wellness Coach
Livin la Vida Low Carb, Jimmy Moore
Podcasts:
Balanced Bites
Chris Kresser
Low Carb Conversations
Robb Wolf 
Movies:
Fat Head  - This guy is hilarious.  He put together a documentary that proves the famous Spurlock's Super Size Me documentary wrong (how McDonald's is addicting and you get fat when you eat it).  It's quite comical really. The dude in Fat Head eats McDonald's 3 meals a day for 28 days and LOSES weight!  Simply by limiting the amount of carbs to around 100 grams per day and continuing his normal low level cardio (walking 6 nights per week).   His doctor can't believe it.  But his "good" cholesterol (HDL) went down probably because of the vegetable oil McDonald's has to cook their fries in these days (they used to cook it in animal fat which is way better for you because it is not processed and made with chemicals like all the shitty oils we're led to believe are good for you) and the quality of the meat.
Food, Inc. - We saw this movie a few years ago and that's when we started to buy more organic fruits/veggies and find better meat products (not grain fed, minimally processed, pastured).  Watch this and you'll be one step closer to putting down the Purdue chicken at the super market and seeking out some pastured chickens and pastured eggs.  The image of the cows walking around in their own crap is still burned in my memory.  How horrible is that? Yuck.
King Korn- Rap your brain around this.  If you eat a Standard American Diet (SAD) just about everything you put in your mouth has high fructose corn syrup, corn syrup, or some other form of corn.  The problem is that the corn produced in ridiculously high amounts (something like 5 tons per acre) is not actually edible in its raw form.  It has to be chemically processed using some nasty stuff just so you can eat it.  It is fed to cows in feed lots literally killing the cows because they haven't evolved to eat corn.  Then you eat the cow packaged nicely from the supermarket.  But what you don't realize is you are eating an animal that is basically malnourished and dying (even though it was going to die anyway, I realize that).  The price of corn is so cheap that farmers can't even make money just selling the stuff, they have to get subsidies from the government to make a profit. The sad thing is these all-American farmers can't even eat what they grow on their farms!  This whole corn thing is just a big, big mess.  Mildly comical, somewhat corny (ha!), but I'd recommend watching it.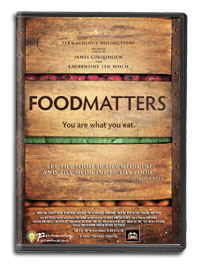 Food Matters - A bit of an eye-opener talking about the adverse affects of pharmaceutical drugs.  Food can cure cancer? You betcha!  Also, did you know that the cancer survival rate definition was changed to include people who have survived cancer for only 5 years after being "cured". So if someone dies of cancer 5 years and one month after being "cured" they are not included in the statistics you see today. Eesh. Also, lots of talk about Vitamin C and its ability to cure cancer. Heavy stuff.
Books on my Wishlist:
I couldn't find some of these books at my library, so I emailed the librarian and they got them all for me.
The Paleo Diet, Loren Cordain
How to Grow More Vegetables , John Jeavons
The 150 Healthiest Foods on Earth, Johnny Bowden PhD CNS
Pasture Perfect, Jo Robinson
The Vegetarian Myth, Lierre Keith
The American Way of Eating, Tracie McMillan
Eat Fat, Lose Fat, Mary Enig, PhD
Know Your Fats, Mary Enig, PhD